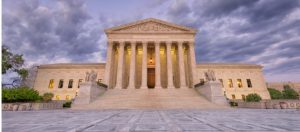 Today, the Supreme Court released their decision regarding a hospital lawsuit against the Department of Health and Human Services (DHHS).  Several hospitals had joined together to sue DHHS regarding a previous rule change in the calculation of disproportionate share hospital (DSH) payments which began in 2014. The DSH payment change had reduced payments significantly to PPS hospitals. The Supreme Court has ruled in favor of the hospitals that this change violated the Medicare Act since it was not subject to public comment and the established rule-making process for government agencies.
The estimated impact of this decision is estimated in an additional $4 billion in DSH payments owed to hospitals for payments made since the 2014 rule change.  Additional details can be found here.
At present, DHHS has not commented on the ruling. SHP will continue monitoring the developments on how DHHS will be reissuing corrected payments based on the Supreme Court ruling and will keep you posted.