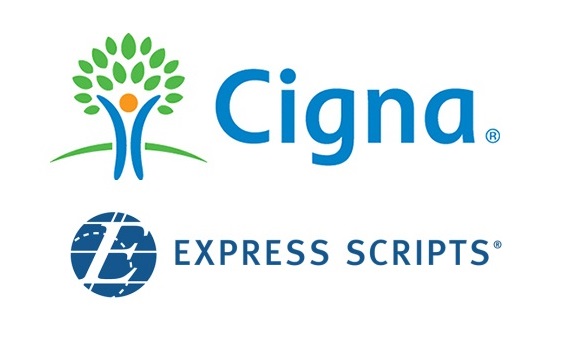 In a deal announced this morning, Cigna will buy the nation's number one pharmacy benefits manager Express Scripts in a deal worth about $67 billion of cash, stock, and debt. According to Modern Healthcare, Cigna will pay "approximately $52 billion in cash and stock and assume $15 billion in Express Scripts' debt. Cigna's president & CEO David Cordani is hopeful for the future of the Merger, saying "the deal would drive quality and affordability for customers".
Not The First Attempt
This is Cigna's first merger attempt since the federal government successfully blocked its proposed deal with Anthem. Cigna sued Anthem February 2017 for $1.85 billion break up fee plus $13 billion in damages following the failed merger attempt; however, Anthem counter sued. The companies are now going to trial come 2019. Meanwhile, Express Scripts is also dealing with a lawsuit with Anthem from 2016, alleging the PBM did not pass along billions in savings from negotiated drug prices. Losing Anthem tested Express Scripts ability to continue as one of the lats standalone PBMs.
How will it work?
Cigna's President and CEO, Cordani, will remain in his position of the combined company. Express Scripts President and CEO Tim Wentworth will become the president of the PBM unit within Cigna. In addition, four members of Express Scripts board will join the combined company's Board of Directors.
Data & Revenue
Express Scripts existing relationships with health plans would not change, and they would maintain guardrails to protect health plans' data.
In 2017, Cigna served almost 16 million customers and reported a revenue of $41.6 billion and a profit of $2.2 billion. Express Scripts' 2017 revenue totaled $100.1 billion, while its profit was $4.5 billion.
After closing, Cigna shareholders would own about 64% of the combined company and Express Scripts shareholders would own approximately 36%. The companies expect the deal to close by the end of 2018 and they will be based out of Cigna's headquarters in Bloomfield, Connecticut.