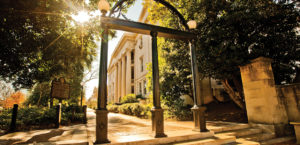 The University of Georgia's performs the IRS mandated Community Health Needs Assessment (CHNA) the report that is been bringing healthcare access and attention Georgia's rural communities. The attention is felt most in the town of Hawkinsville in Pulaski County. Before UGA's efforts the residents of Pulaski County needed immediate care the only option was the emergency room at Taylor Regional Hospital.
This lack of options for care ran its toll on Taylor Regional Hospital seeing on average nearly 6000 patients a year. The CHNA showed issues in the community of not only Pulaski County but 13 other counties across the state of Georgia. With help from the Archway Partnership, the University of Georgia was able to open Taylor Express Care. After the clinic opening the, Taylor Regional Hospital saw a drop of emergency room attendees of 23%, down to 4600 annually.
The Archway Partnership places faculty of UGA in each Archway Community in an attempt to address what needs that specific community have across multiple disciplines. UGA has found that the most pressing issues across the different communities are: jobs, workforce development, infrastructure, and healthcare. The people of Pulaski County identified that healthcare access was one of the top issues facing their community. To attack this problem the UGA College of Pharmacy began working with the administrators of Taylor Regional Hospital in 2016 to reduces the percent of readmitted patients that were treated for: COPD, pneumonia, and congestive heart failure. This effort eventually lead to the creation of Taylor Express Care.
The Archway Partnership program, and the UGA College of Pharmacy are not content with just addressing access to care issues. They have their sights set on larger goals. The biggest is not just affecting just rural Georgia, but our nation as a whole, opioid abuse. They are bridging the gap between physicians and pharmacist to offer better education and consultation with patients to help prevent opioid misuse and addiction. This work began not too long ago and the efforts from it are hopefully soon felt.
These efforts are an attempt to listen to the problems at hand and offer solutions that not only bring these communities together, but builds a healthier state for all Georgians. To learn more about the Archway Partnership, the Community Health Needs Assessment, or more about this topic please see the links below.
Archway Partnership: http://www.archwaypartnership.uga.edu/
Community Health Needs Assessment: http://www.georgiawatch.org/wp-content/uploads/2015/06/Formatted-CHNA-Report-06022015-FINAL.pdf
Source: "UGA Addresses Health Care Needs in Rural Georgia" by Christopher James. Published January 29, 2018.
http://savannahceo.com/news/2018/01/uga-addresses-health-care-needs-rural-georgia/?utm_source=Savannah+CEO&utm_campaign=f2b2e15493-EMAIL_CAMPAIGN_2018_01_29&utm_medium=email&utm_term=0_8c93e46c9f-f2b2e15493-303752725